Explore a world of natural harmony
Warming rays of sun and a faint buzzing in the air, accentuated by the scent of a multitude of flowers, gently swaying to and fro in a light breeze – the playfully romantic Mariefleur pattern captures the delightful atmosphere of a rural summer garden, bringing a charming country style to your home.
Collection details: Mariefleur
• Popular classic since 2012
• Beautifully decorated Premium Porcelain
• Dishwasher-safe
• Microwave-safe
• The range includes coffee, tea and dinner sets, serving dishes and plates, baking dishes and a lot more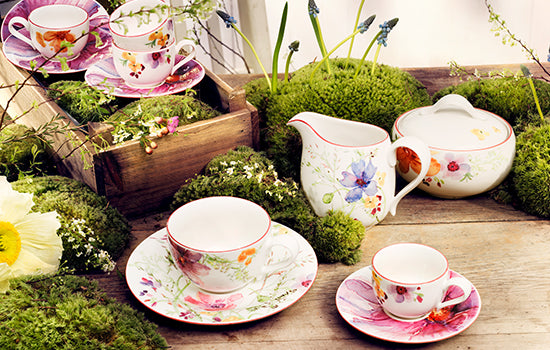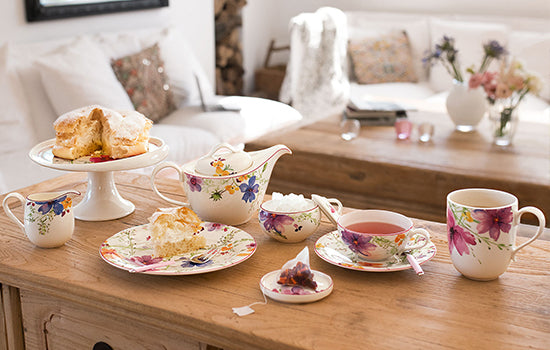 Be inspired by Monet
Claude Monet, France's great painter, was not only famous for his water lily pond – he was constantly rearranging flower colours and capturing their natural beauty in his large garden in Giverny. Mariefleur lets you create combinations that go together with masterly finesse, too. The different motifs seem to grow beyond each piece of crockery. In turn, you can give your table a very personal touch.
NEW IN 2018: MARIEFLEUR TEA
Enjoy even more choice: The colourful medley of watercolour flowers now also flourishes on Mariefleur Tea, our matching tea set. Fulfil your passion for summer gardens.
Mix and match with ease and style
We're making it easy for you to give your table a harmonious setting. Right down to the very last detail. As our Mariefleur pattern also adorns espresso cups, a sugar bowl, a small milk jug and a lot more. Browse our collection and discover the charming combinations Mariefleur makes possible. Welcome to the summer garden!